Since these are weird and not intuitive, and because people have been asking me about them, I've decided to put up my methods for dealing with them. This is not an in-depth thing; for instance I do not go into the pump at all, and I'm not detailing the cleaning of the nickel, frame, air tube, etc. Use all applicable methods from general FFR instructions in addition to this. And, if anyone has other things to point out, feel free to do so. That said, here we go!
Today's patient is a 8/5 L228 which was lacking a pickup orifice when I got it. I've been running it like a Quicklite and wanted to see how it would behave in instant-lighting configuration.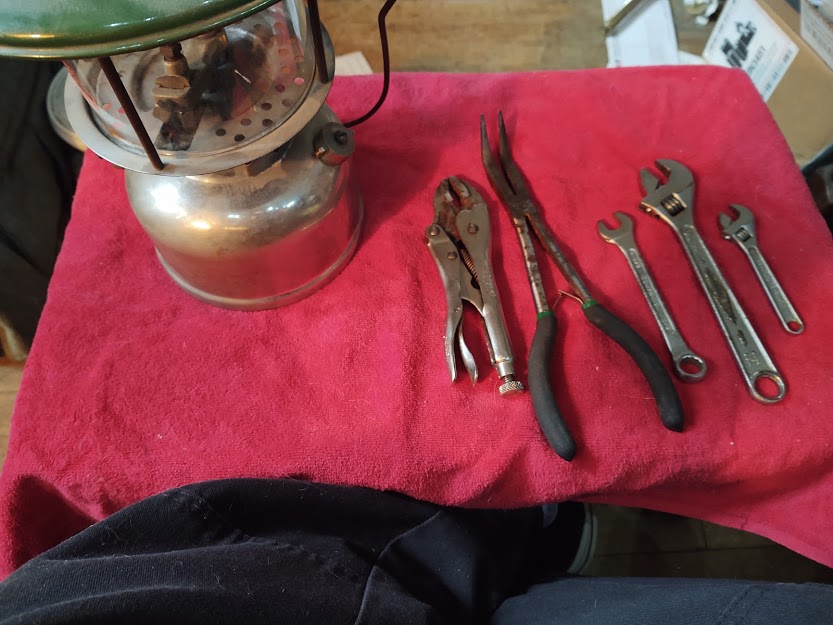 Those are all the tools I need to take this down. I know some of you are cringing at the vise-grip, but I promise it's OK. No harm will come to the lantern.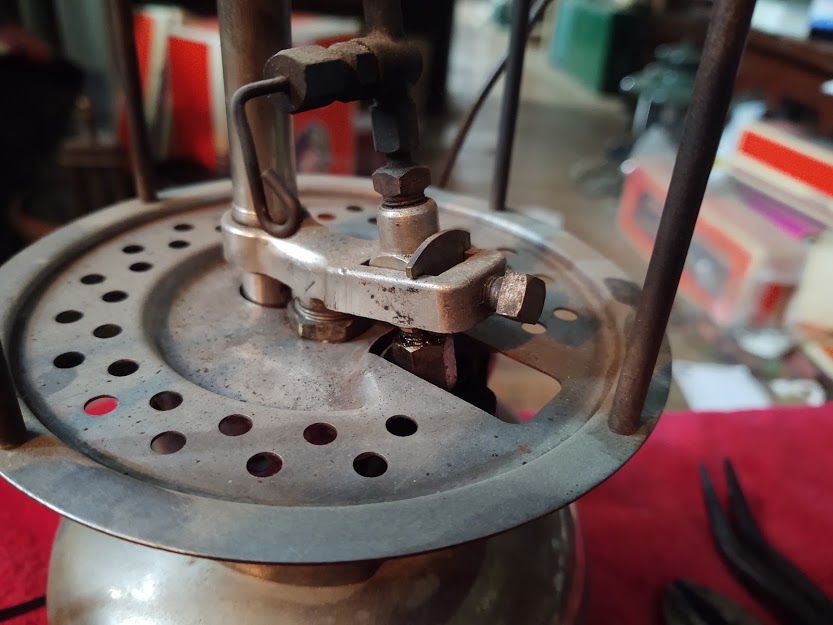 The valve and valve block here are the first unusual thing to remove. If the generator is a Q99 or R55 (or a AGM rototype like this one) it needs to be removed first. If it's got a Q77 or T88, it can come out through the bottom with the valve, and has to in the latter case. Be sure there is no fuel under pressure in the fount before loosening the screw holding the valve in or you will have a mess on your hands.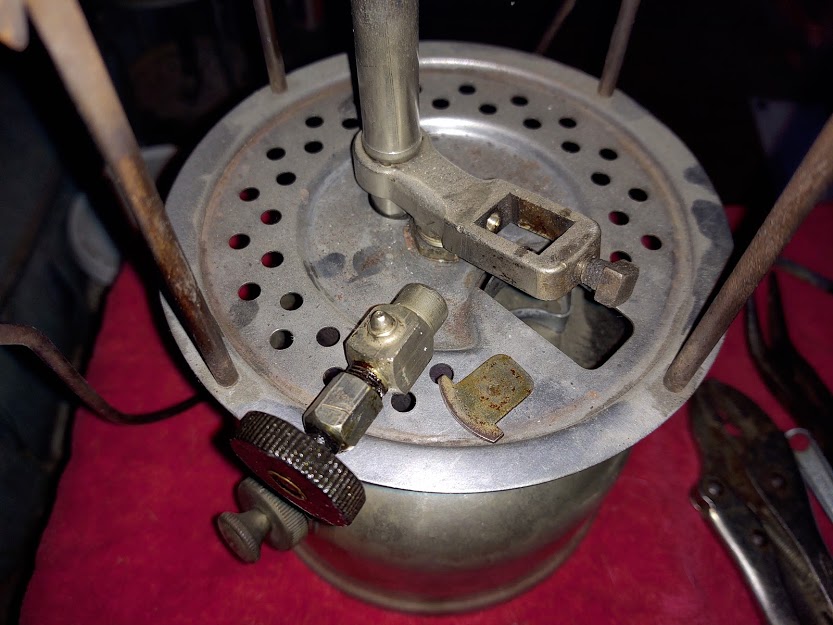 There are no fewer than three versions of this valve. This is, I believe, the least common one. Other early ones are bakelite and have a beveled, reeded edge (the Reese's cup wheel) and later ones resemble a late CQ or 242 wheel, but with "CLOSE" and the arrow on both sides. The valve body is strikingly similar to an iron valve; obviously machined differently on the incoming side though. As you can see, it is simply pressed into the block; this mating surface needs to be clean when it goes back together or it will leak. If the T88 generator is present, it can be noted that the valve then operates similar to a stove valve and generator; one must open it all the way to retract the tip cleaning needle. Given its awkward position, this was discontinued and the later ones do not accept the T88. Personally, I have found the R55 easier to live with in any case.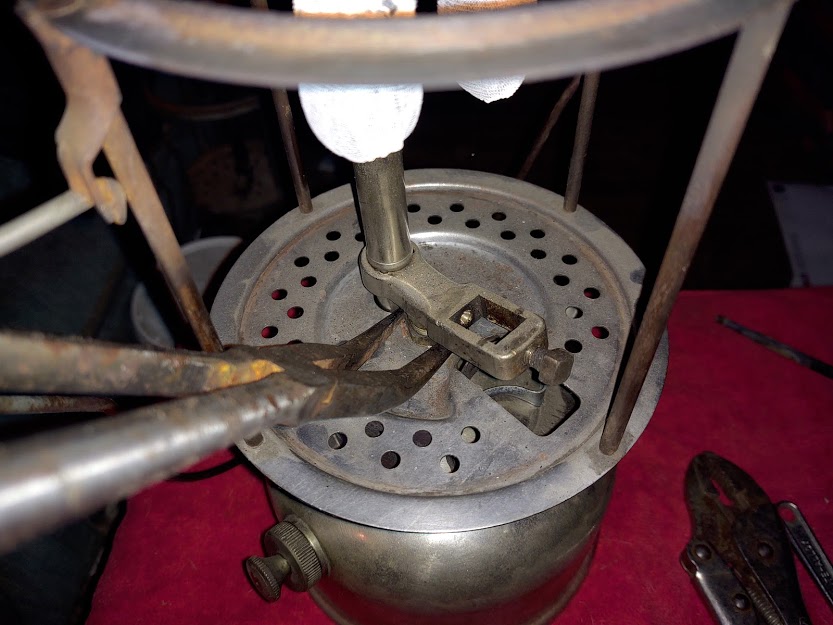 If you have a 11/16 carburetor wrench (AKA a really thin one) you can use it here. If not, you don't need to loosen this to take the lantern apart, and can snug it with needlenose pliers when it goes back together. It doesn't need to be super tight, just enough to keep the frame from moving.
Now, the cringe: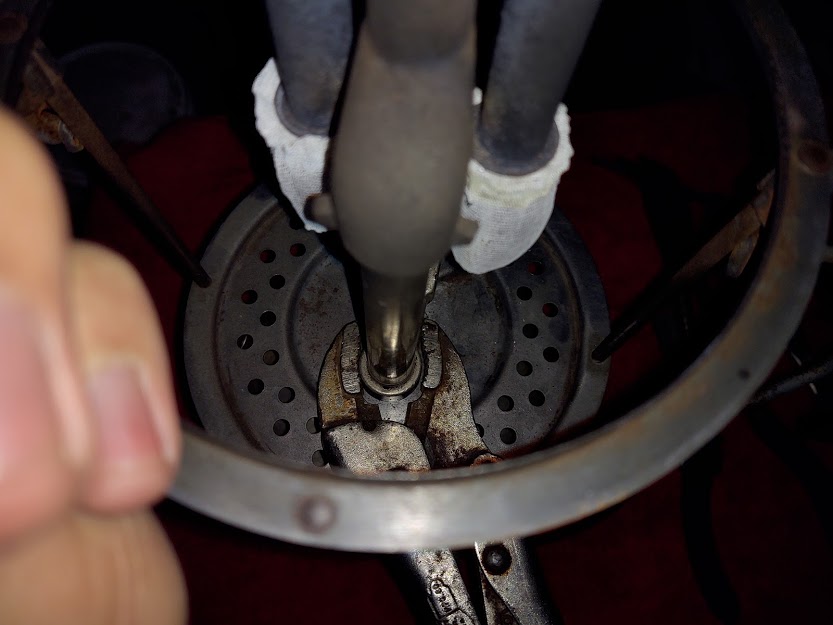 I've tried many others, but this tool fits the best around the airtube and frame, like so. To make you feel better, I use insulation: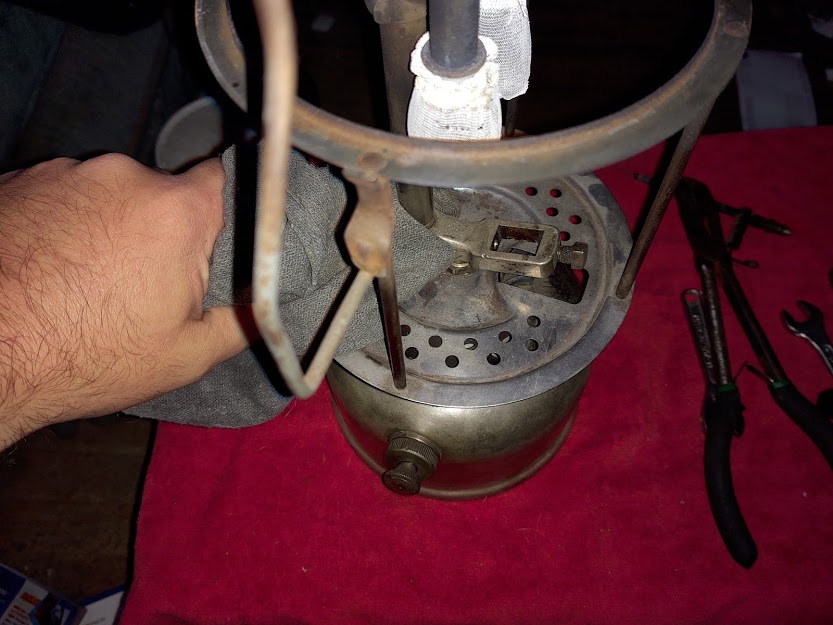 From here, I generally brace the vise-grip against a knee and turn the fount. This is the big part that gets people- The air tube does not come out. you have to turn it, the frame, and the collar together!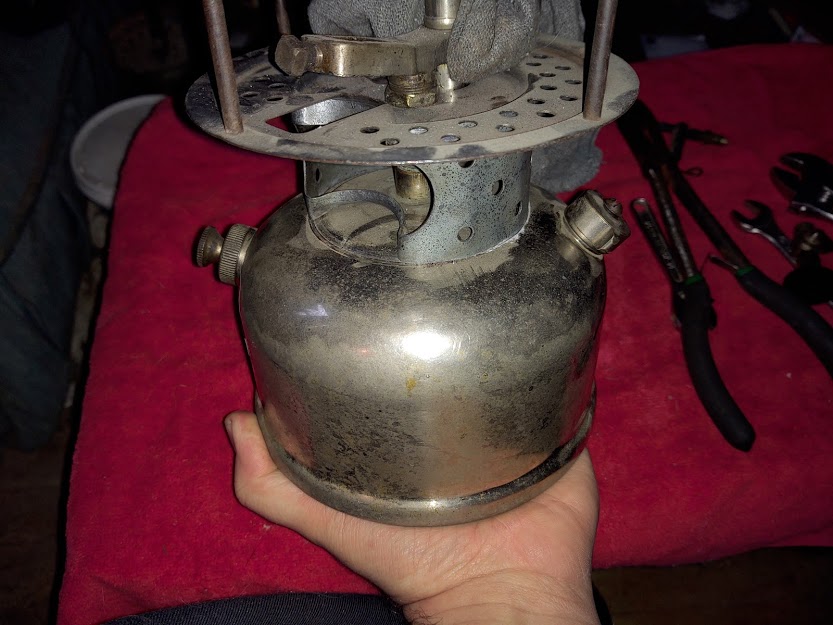 It's easier to do this upside-down, but this lantern had fuel in it.
Now let's see what we get once it comes apart: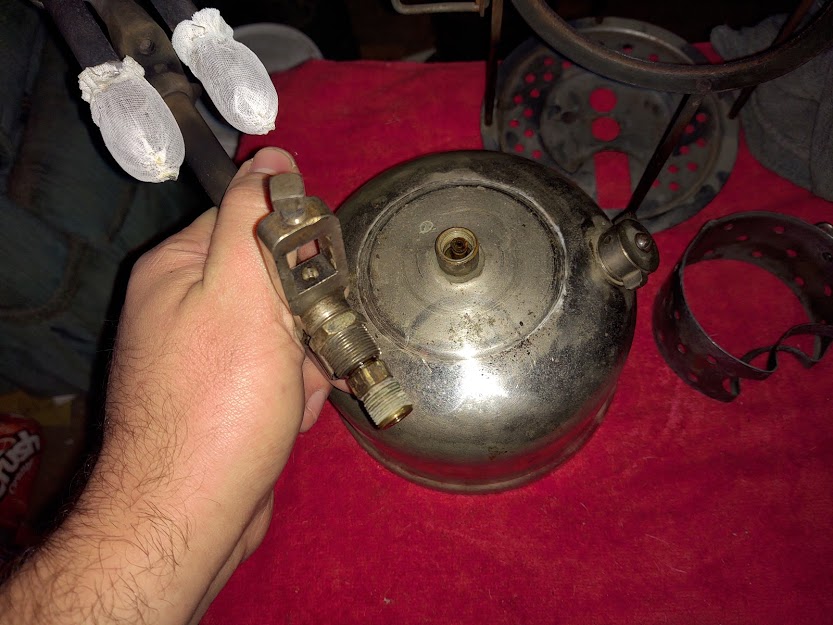 There's a coupler here. Sometimes it stays on the fount. More often though, it comes along like this. Use a 1/2 inch wrench...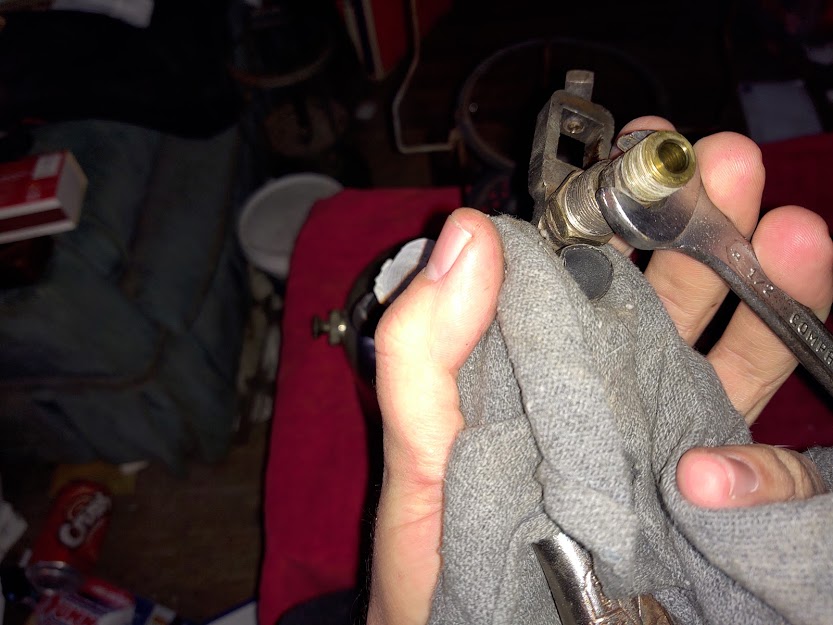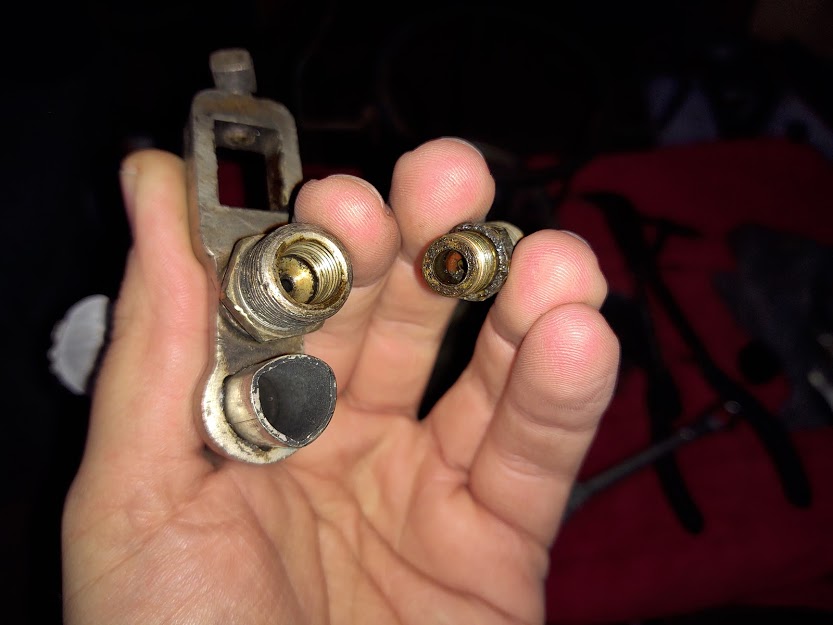 ...And we see a 1/8 pipe connection. Search my topics started to see how you can use this to put a Slant on a different fount if yours has been compromised. Now, this is all there is to this one, but some later ones have a filter here that needs to be cleaned. Just so you don't ignore it then wonder why your lantern still doesn't work after you've taken it down and put it back together.
Now we can get to the source of 99 percent of Slant owners' headaches!!: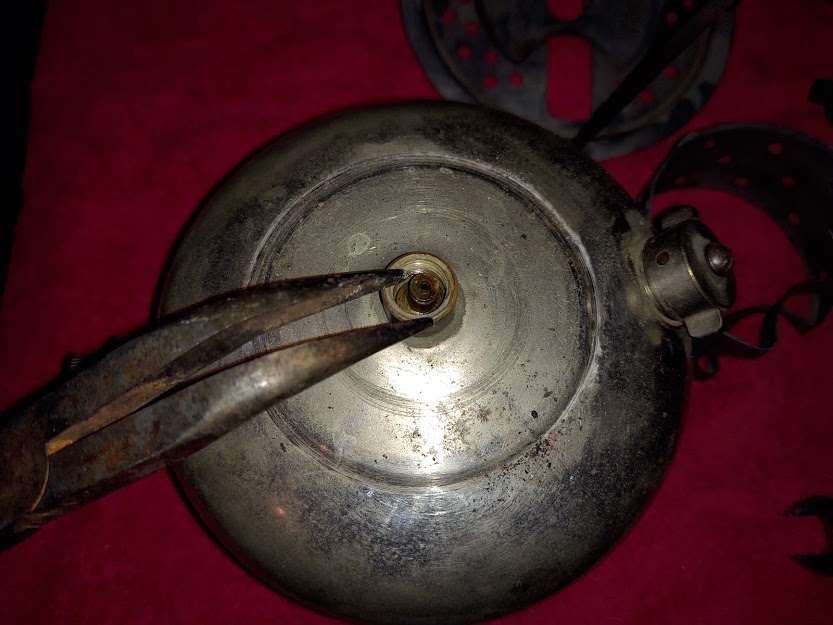 This is another piece that's just held in by being pressed. It should just lift out with a little persuasion.
This, ladies and gentlemen, is what makes the Slant.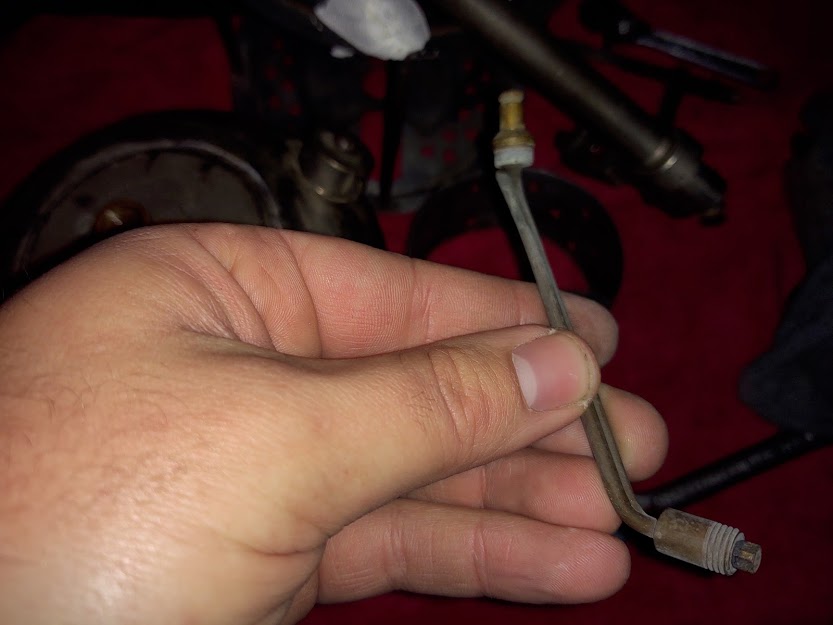 It's a passive Fuel-Air pickup that depends on flow rate to work. If it's unmessed with, it will have a barrel-looking filter screwed on over the orifice here. There are two types of this, again early and late, but they theoretically work the same. See this thing? Looks like a generator tip tight?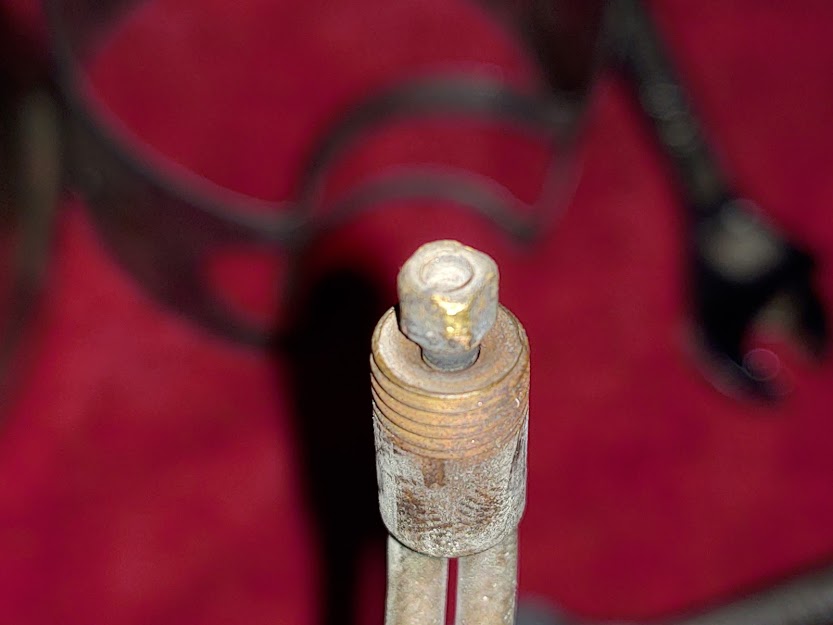 That's because the one in the picture is one. They are made the same. Now, this jet will be a little smaller than the gen tip orifice. (I actually use 200A tips to replace ones that are missing.) What this means is that on lighting, the lantern will pull more than that jet can provide, meaning some air comes along and atomizes the fuel. Once it's warm and the fuel is boiling in the generator, there's backpressure and it doesn't ask for so much, and the fuel flow cuts off the air. This is how the Slant works; this is how it fails also. With no way to manually clean this jet, it was susceptible to the impure fuel of the '20s and '30s. Letting it sit for a month with anything other than CF can cause it to clog with varnish. That's why I say, make the inside spotless and only use fresh clean CF in one of these. This particular one had old unleaded in it when I got it. It clogged again within hours of me putting it back together after this photo shoot, from the residual varnish that I have not been able to remove yet. If you don't want to deal with this, leave the jet out of it and pre-heat it exactly like a Quick-lite. It will absolutely work that way, and I know some of you pre-heat everything regardless to avoid sooting up your burners, so if you roll that way, you'll have a nice reliable BRIGHT light.
Putting it back together is mainly the reverse of taking it apart with a few caveats.
First, when you put the pickup back in, give it a spin counter-clockwise, so if it slips as you're tightening the coupler over it it won't ride up over the pump.
Second, make sure you have the collar oriented the right way up. The bottom of the indent has the rolled lip: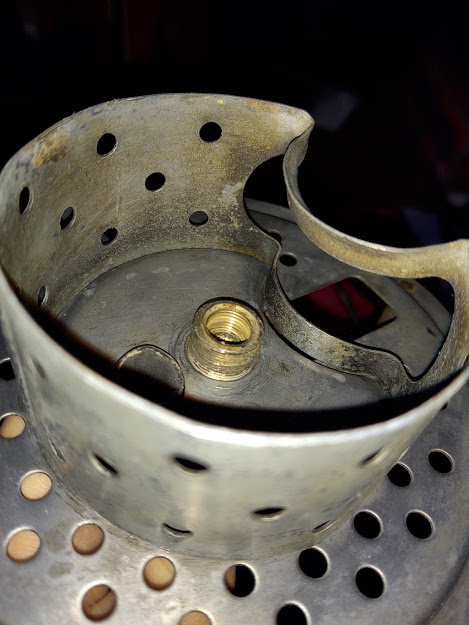 If you're using a T88, put it on the valve first and slide it on in like so: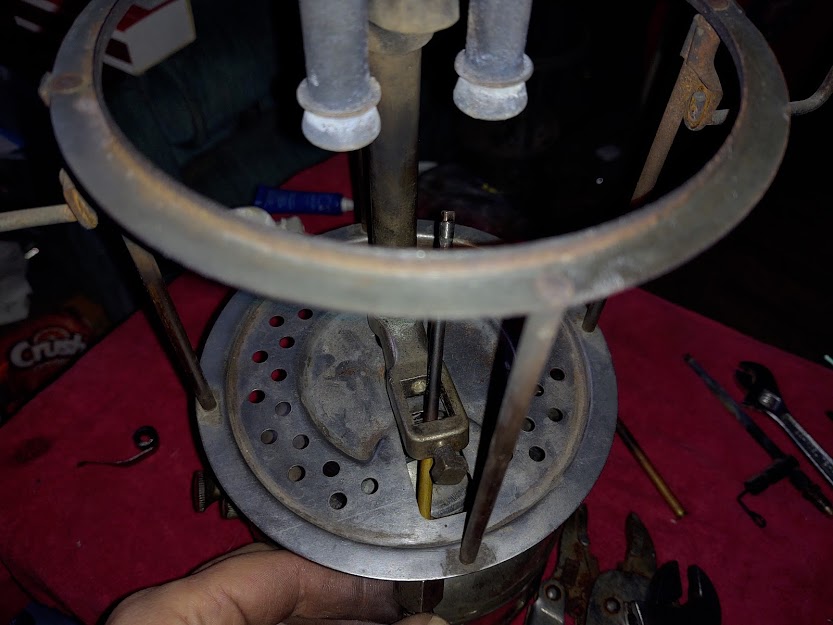 Mine happened to have the end of the old T88 pricker snapped off in it. R55 is so much better to live with!
If using other generators, install the valve but leave it loose: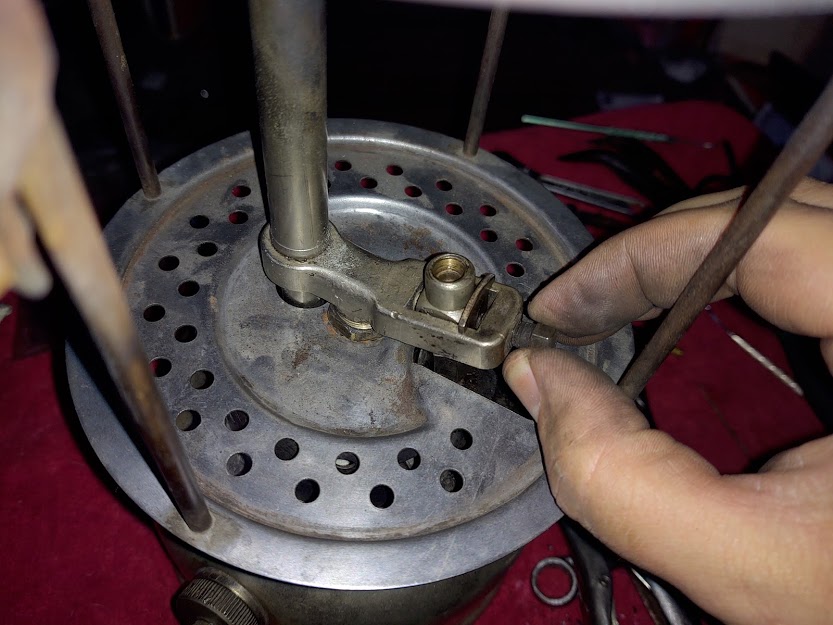 Tighten the holder screw after the generator. That will ensure both are sealed.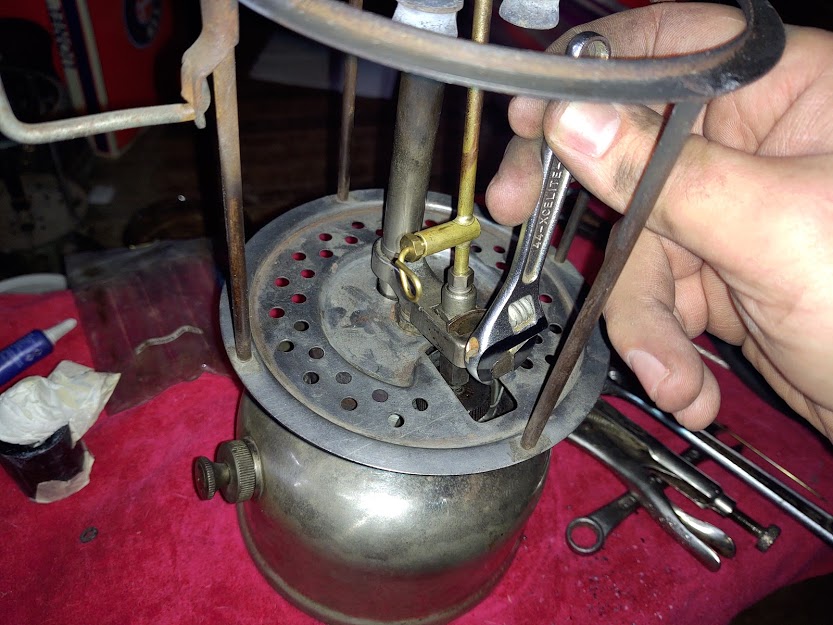 I hope this helps any of you who have one of these unique things. I'll leave off with my favorite picture of my favorite lantern: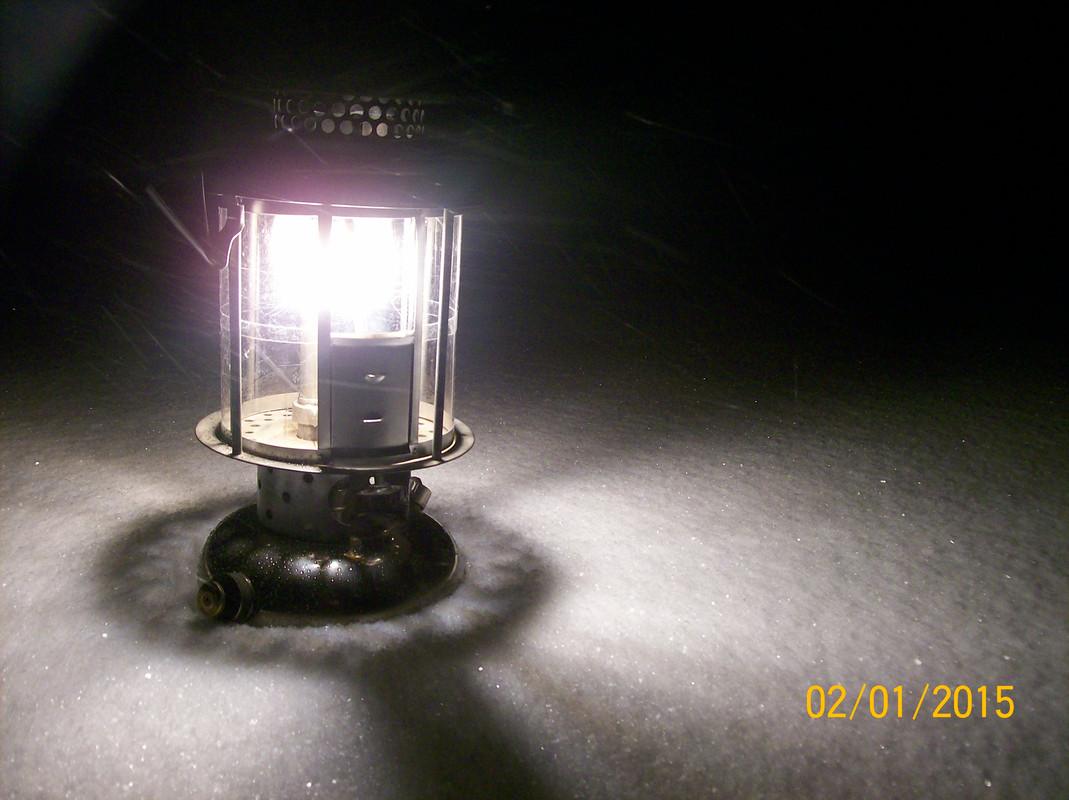 Thanks for looking!