Hello all,
Yesterday I purchased my first Coleman lamp a 132a.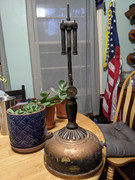 My hope is to get it back up and running, but I know nothing about these. It dawned on me that I don't even have a clue as to what fuel this lamp uses. The guy I bought it from said Coleman fuel, but I thought it was hazardous to burn white gas indoors due to CO2. I don't see a heating cup like on kerosene lanterns. Can anyone point me toward literature explaining the fuel?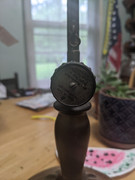 Once I got it home and wiped it clean I could see shallow tool marks in the brass tubing and the white dial face is askew making me think someone has messed with it sometime in it's past. Is there a way to remove the dark corrosion from the brass tubing and make it shiny or did it come black?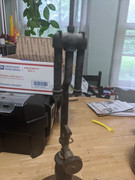 The globe, it's support, and the shade were not included. I know old Coleman parts has globes and supports, but is there some where to source an shade that would be similar? Is there a way to set it up to accept the heavier glass shades?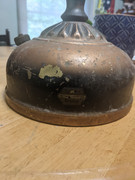 The font is in rough shape. Although the decale is decent the rest of the paint job is trashed. What would be the best way to remove paint as to not damage the brass underneath. Not sure if I want to repaint or just polish the brass. OCP has replacement decals so that will not be an issue. There is however a dime size dent dent above and left of the decal. Is there a safe way to fix that?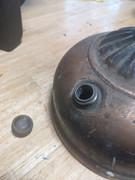 The cap is an old style one that I will replace with a new style. There is rust on inside bottom of the tank. Can I just use Evaporust on the inside of a tank safely?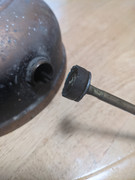 The pump tightens and loosens as it should, but doesn't build up any pressure. The plunger seemed to be in okay shape and even wet with oil. I will probably replace with new for price of mind. I saw on another forum entry that an individuals 132a font was "leaking" is there a way to test for this?
Any advise would be greatly appreciated. Thank you very much
Jeff