Re-posted here with permission from Bob Hitchcock:
"To All Readers of The Coleman Collector's Forum:
"As most of you may have noticed, I do not post here on the Forum often. However, I must make exception to this particular thread. I have some great concerns about some rumors that people are talking about repairing 501 stoves. I feel that I would not ever want you to go into the bomb making business so I am making this post
because that is what I think I would be doing if I did not take time to point out some VERY important facts about this particular stove.
1 This stove was put into production before it was thoroughly tested.
2 The first version was made with the off on valve on the far side of the generator and had the potential of not being able to shut it off if it had a generator failure.
3 The second version of this stove corrected the error of point one but created a second Very unsafe condition with the fact that the valve assembly was not able to handle the amount of heat generated by the stove.
4 When The Coleman Company discovered these errors they decided to completely scrap the 501 stove and a recall of all of the 501 stoves sold. Because this was done many years before it was known how to do a recall, Coleman did their VERY best job of having any stoves that were in the hands of retailers or wholesalers return them to the factory for full credit.
5 During this time some 501 and 501A stoves did get out to consumers and since this was long before consumer registration of a product, the small number that did get out were handled 0n a case by case basis. If a stove was taken to a Coleman authorized repair center the center was told to just give the customer a new 502 stove no matter how long they had had the stove. The repair station would then give the stove to their Coleman salesman and he then was given the responsibility of destroying the stove. This was usually done by using an Ax on the stove.
6 The Coleman Company has always been committed to the safe operation of any product and took all reasonable action in this case because safety has always been of utmost importance to the company.
"The reason I make this post is that safety is still IMPORTANT. If anyone is still trying to repair one of these stoves they are playing with a potential BOMB. I would suggest that if you have one of these stoves in your collection that you keep it in as close to perfect condition as possible but make sure it can NEVER be lit if it leaves your collection. One good way to do this is to remove the check valve and fill the tube below it with Epoxy and then replace the check valve before it hardens. Another would be to drill a hole in the fount so that it cannot hold fuel. Always remember that when you have one of these stoves and when you either sell it or give it to another person that you don't want the responsibility of passing on a potential BOMB."
Thank you for your time,
Bob Hitchcock
"P.S. I would appreciate that no repair information ever be given on this bulletin board regarding the Coleman 501 Stove because you could be responsible for furnishing BOMB making information!"
Added on 11/02/2011 Photos of a 501 Stove: (Thanks Geoff40!)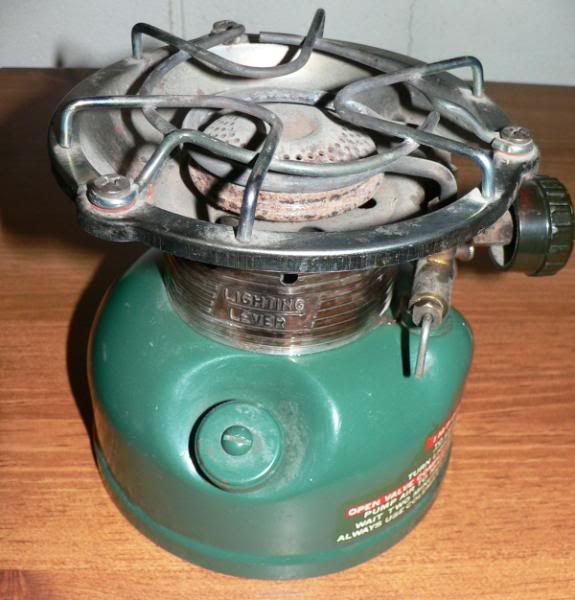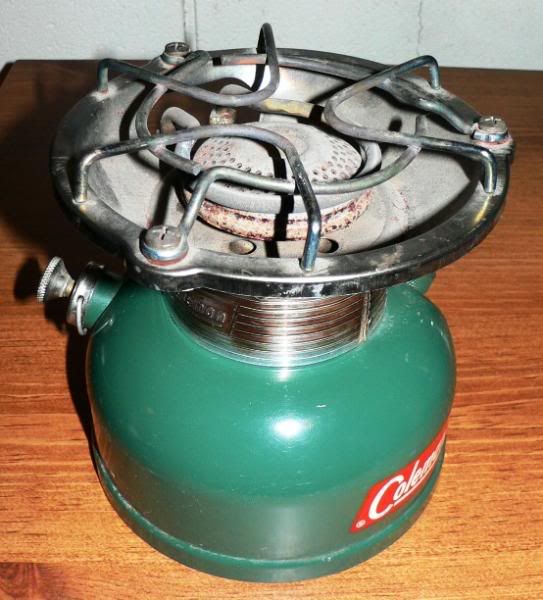 Added on 1/31/2012 Photo of 501, 501A & 502 (Thanks HandyGasPlant ~~ John)