I hear the humble cassette is having a nostalgia wave, kind of like records but not quite to the same extent: people are apparently making a big deal over the sound and tactile aesthetic that you don't get with digital.
Me, I like using them for the same things people did when they were everywhere; copying albums so I can listen to them wherever I want and making my own playlists. I used to use the deck built into my grandmother's stereo until it went down for the count. Then I did some research into how to make really good quality recordings (long story short, 90% of it is using the best deck you can). Then I started looking around for equipment. Where have we heard this story before? Anyhow, if you've made it this far into the ramble, you deserve to see what I'm rambling about: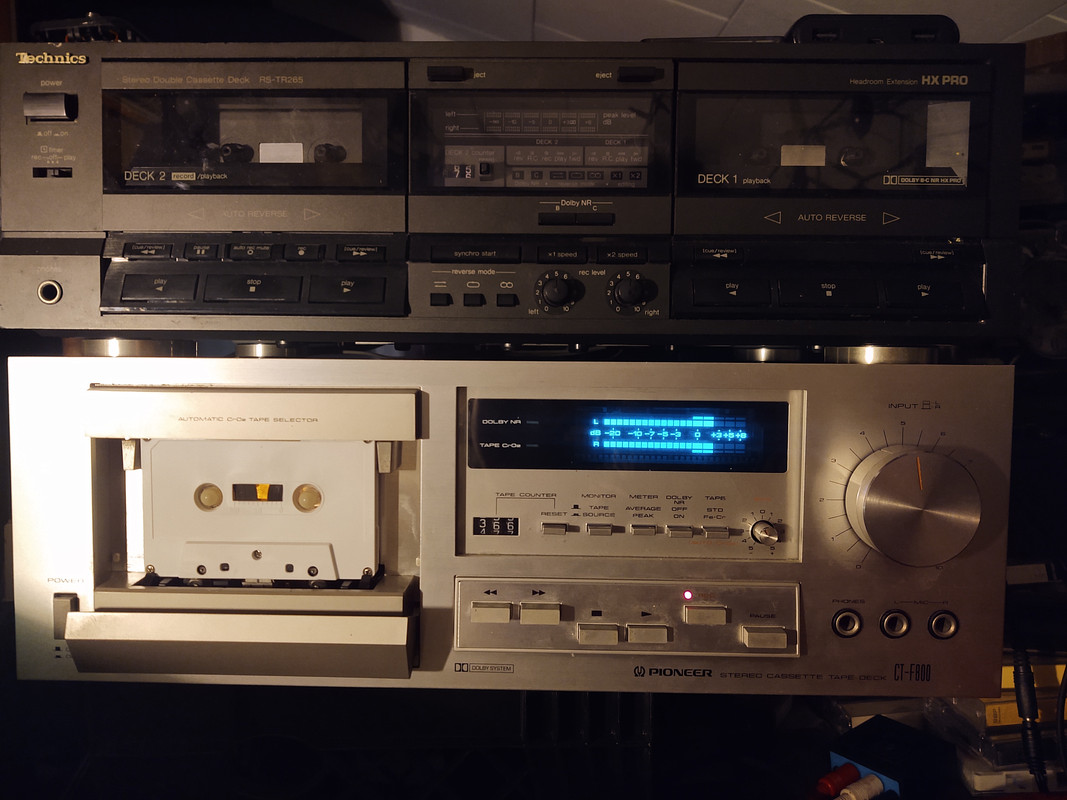 The Technics is my newest acquisition, and my most expensive so far at about $40. I thought I'd made a mistake when I found a broken gear in one of the transports, but it turns out it's a known issue and there are people making those gears with 3d printers and other people making video tutorials showing how to change that gear on this very machine. So I changed it, and preemptively changed the one in the other transport too. What excites me about this is that I can put two tapes in and not have to do anything else for three hours while it plays both sides of each one. The open well Pioneer below it is my best quality (though not the most reliable at the moment, or the most capable; it doesn't do type 4 tapes) recording machine; it's a three head unit which plays back your recording as you're making it so you know immediately if it screws up.
I have another three head machine, this one is more capable and reliable but lesser quality. It lives at Camp at the moment and I have funny notions about using it to record the staff singing camp songs: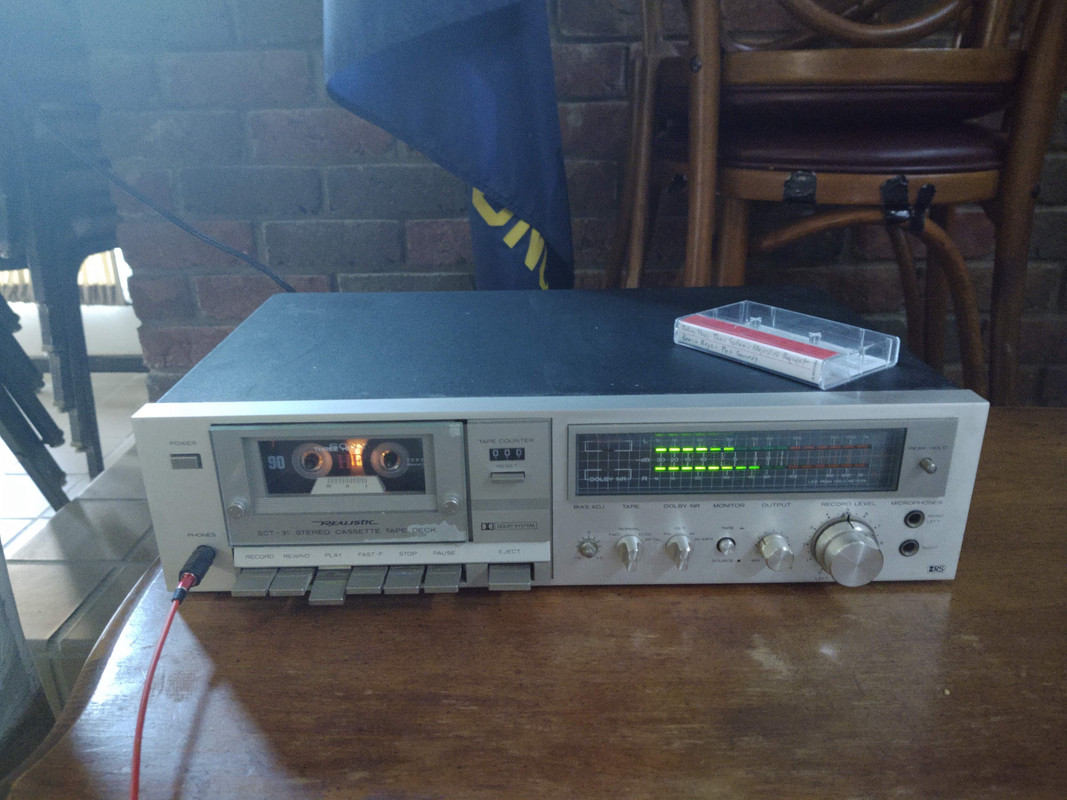 Realistic is the old RadioShack brand right? The tags inside indicate it was made by Hitachi. Decent enough, I suppose, but just not in the same league as the machines above.
Here's another recent pickup, mostly because it was cheap and I had never seen anything like it:

And because every tapehead needs a boom box. So you load two tapes into it, and you can either relay play them or copy one onto the other. It's just a weirder way to do what everyone besides Sharp was doing with dual wells, and unlike most of them this is incapable of auto-reverse. But it sounds pretty good at least. If I had to pick an analogue in the lantern world it would be the Kamplite Inverted; ultimately unnecessary but really cool.
And, the cheap workhorses:
host pictures
I don't know what a GE alarm clock radio like this was new in 1989, but it can't have been less than what it was in spring 2021. It records the radio if you really want it to, and you get terrible recordings that way. But put in a tape made on the Pioneer or the Realistic and it sounds great. Because the quality of the initial recording is the most important thing about cassettes! And the Walkman I've had since I was a kid. I tried retiring it in favor of one of the new machines on Amazon, but it just wasn't the same. There was electrical interference and speed issues on the new one, and that was before the auto stop feature broke. So I put a new belt in the old Sony, which is actually a very late, very cheap model as far as genuine Walkmans go, and the thing just keeps ticking.
Well, if you made it to the end, thanks for reading! Anyone else still listening to their tunes the hard way? Remember, it could always be worse...